When you decide to go to Ireland make sure the Cliffs of Moher are on your must-see list. Located in County Clare, the 8.7-mile cliffs have faced the wild Atlantic for over 350 million years.
Once there, go to the cliff edge and decide which breath-taking Cliff of Moher is your favorite.
The view
While being a "Cliffs of Moher visitor", you can expect to see some of the most spectacular views on the west coast of the Atlantic Ocean.
In the north the cliffs rise 702 ft; in the south, they reach 390 ft.
Go to O'Brien's Tower – the highest point on the Cliffs — and gaze out at Aran Island in Galway Bay. Look to the north and you will see County Galway; check the south to view the Loop Head.
The tower was originally built in 1835 by Sir Cornelius O'Brien as an observation site. It was then restored in the 1970s.
The tours
Exploring the Cliffs of Moher is best done with a good pair of hiking shoes, a jacket as it gets windy at times, and a water bottle.
Guided tours and day trips for individuals or small groups can be arranged from either Galway or Dublin.
The 11-mile cliff walk is a popular hike for the fit. There are multiple entry points to the Cliffs, so getting there is not difficult, and you can decide how long a stroll you want to take.
Adjacent to the Cliffs is the 96 square mile Burren National Park. Burren – which means "great rock" — accurately describes the landscape of these limestone hills. Combined these areas are the UNESCO Burren and Cliffs of Moher Geopark.
The area is being preserved, so being environmentally conscious is a must.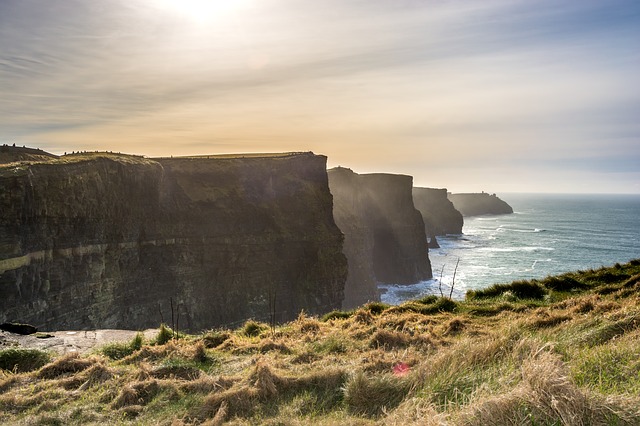 The attractions
The Cliffs of Moher have been a tourist attraction since they were built in the Victorian era. About 1.5 million people go to the Cliffs every year, making it Ireland's most popular destination for visitors.
If you head there in late spring to early summer be sure to pack your binoculars. This is when you might see basking sharks. These sharks – the second largest in the world – range in length from 22.3 to 28.8 feet and weigh 5.5 to 7.7 tons.
The basking sharks are generally a brownish grey in color. However, they appear to be black when their pointed snouts and huge dorsal and pectoral fins are spotted from the Cliffs. These plankton-feeding animals are harmless and sometimes come within yards of the shore.
Do you have a great zoom on your camera to catch them in action?