Rising Vacations welcomes you to its new website and suggest you to explore it with the same curiosity you would enter an enchanting ancient castle, like the ones you can run into your next vacation in Europe. Rising Vacations creates European vacation packages including visits and stays in ancient castles and luxurious palaces that are scattered all over Europe. You will feel at least for a day as kings and queens who once dwelled there.
When we talk about castles is instinctive to think about the Loire Valley, where some of the most European remarkable historic buildings are located. The Chambord Castle was the game reserve of King Francis I and it is considered one of the masterpieces of Italian Renaissance architecture in France.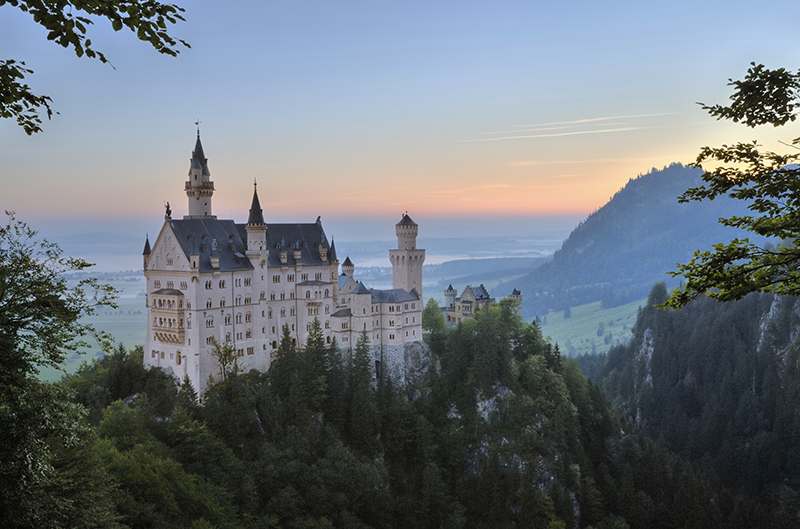 Many castles are located in dramatic settings. The Neuschwanstein castle of Ludwig II is situated in a picturesque landscape deeply in the forest of the Bavarian mountains, on the edge of a dizzying gorge, in walking distance of its "twin" castle Hohenschwangau.
Victor Hugo compared the mystic castle of Mont Saint-Michel in Normandy with Cheops' masterpiece describing it as "a marvelous pyramid" of the seas. The French author also wrote about it in another poem: "What a strange place is this Mont-Saint-Michel! All around us, as far as one can see, infinite space, the blue horizon of the sea, the green horizon of the earth, clouds, air…"
The beauty and the variety of the architecture of some castles are extraordinary. The huge Prague Castle (Prazsky hrad) founded in the late IX century and rebuilt in the following centuries is a monumental complex of palaces, churches and defensive structures in various architectural styles ranging from Romanesque to the Rococo. The Chillon Castle in Switzerland is an island castle located in the north of Lake Geneva, in the surroundings of Montreux. Made popular by Lord Byron, the castle is an architectural medieval gem composed of one hundred independent buildings which today form a larger and unique building.
Rising Vacations can easily arrange excursions even to off the beaten path castles such as the Moritzburg Castle, a Baroque palace in the German state of Saxony, near Dresden. In the 18th century, it served Augustus the Strong as a hunting lodge and its interiors are a magnificent example of opulent baroque décor.
Medieval atmospheres, period furnishings and amazing landscapes: a simple stay may turn into a delightful dream vacation! Feel free to contact us and we would be happy to customize your European vacation packages making them unique and European.