My last travel to London
On my last travel to London I went first to see Covent Garden as it's my wont. It was November, when London switches on its Christmas lights and you can see the city at its most dazzling. Before starting one of the classic tours on my London vacation, I walked down Regent Street to see its Christmas makeover made by amazing garlands of lights which entirely light up this grand shopping road. A ten minutes' stroll crossing Piccadilly Circus and Leicester Square, and I finally got to Covent Garden and its timeless atmosphere.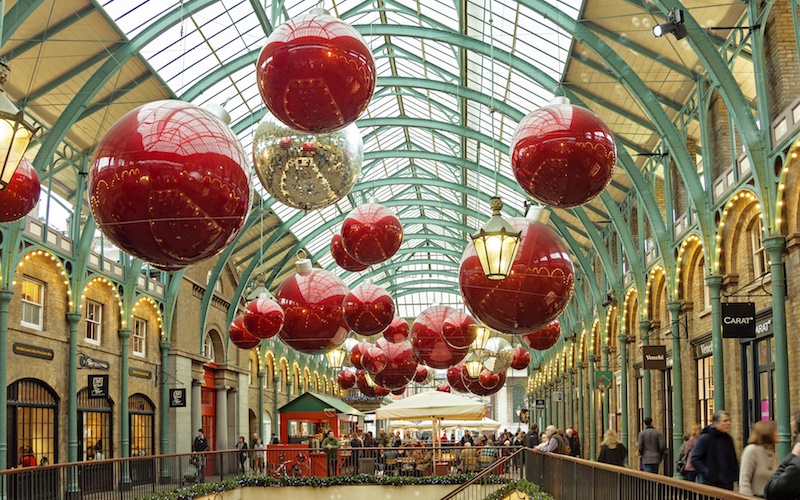 Watching the district, it could sound like a curiosity, but Covent Garden was created as a vegetable garden. During the Middle Ages, the area was occupied by the "garden of the convent" (hence the name, which is a corruption of "Convent Garden") of the abbey of St. Paul. In 1631 the architect Inigo Jones reshaped the district into a residential area for wealthy people, inspiring to the Piazza Grande in Livorno (in Tuscany) through a series of arcades in Palladian style. Two centuries later were built the facilities you can still see: the main building of the square, the Central Market Building; the Floral Hall and the Flower Market (…maybe it reminds you of Eliza Doolittle, the Cockney flower girl of the musical My Fair Lady?), which currently hosts the London Transport Museum and the National Theatre Museum.
Shops and restaurants in Covent Garden
The Central Square is a perfect starting point for discover shops and restaurants in Covent Garden on the cobbled streets of the 'Seven Dials'. On Floral Street you can find the studios of many British designers. If you are a tea lover, you can not miss the Tea House in Neal Street, where you will find more than 70 types of tea for sale. In the popular covered Apple Market at the center of the square, you can buy British-made craft, imaginative artwork and handmade jewelry.
Visiting www.coventgardenlife.com you can get nice tips about restaurants and theater's events. Besides being a trendy place, Covent Garden is closely tied to theater and opera performances. Here is located since 1882 the Royal Opera House, one of the most important in the world.
Once there for your London vacation, take a rest and enjoy a pint of lager at the Lamb & Flag Pub or a cocktail at Be At One. It could be nice…
Simone