Austrian pearls: Salzburg and Vienna
If you love classical music and you want to discover or deepen your knowledge of Austrian classical music, this is the perfect tour for your Austria vacation.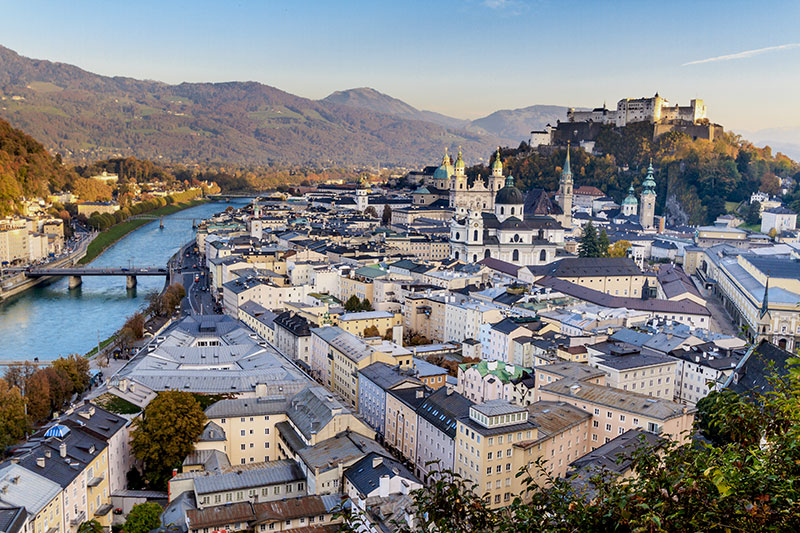 Your travels will be set to the notes of Mozart and other important composers, with easily arranged choices for musical happenings and concerts to satisfy your musical passions throughout Salzburg and Vienna, the world's eminent capitals of classical music.
Salzburg, the capital of the Sound!
Known worldwide as the birthplace of Wolfgang Amadeus Mozart, Salzburg is a must to see and enjoy. Surrounded by the Alpine landscape, Salzburg offers many charming aspects. The city's well-preserved old town dotted by baroque churches is guarded by the Hohensalzburg Fortress, Europe's largest intact medieval fortress. The Mirabell Palace so famous for its expansive gardens is also one of the best places in the city to enjoy a classical music concert. The city itself and its Lake District Area provided the locations for the filming of the famous musical "The Sounds of Music". In winter Salzburg invites feelings of warmth and celebration with locals and visitors alike indulging in the special charm and atmosphere of the city and its many outdoor Christmas markets.
Encounter with the history, meet Vienna
Music will also be your travel buddy in Vienna. The hometown of Franz Schubert and Johan Strauss (both father and son were born here) while many other composers of the Baroque and Rococo periods of the 17th and 18th century made this cradle of classical music their home too. The gateway to Central Europe, this elegant and people oriented city welcomes you with its slow pace of life. The Hofburg and Schönbrunn Palaces and the Ringstrasse area will make you appreciate the rich Habsburg heritage, featuring the very rooms and spaces that once were the scene of imperial events and where famous classical compositions were performed for the very first time.
Everywhere you look in Vienna and Salzburg, music, history and architecture brings your soul to a time and place of immense musical majesty!