Some people believe that when all is done and dusted, it is the memories that count. What could be better than recollections of bubbly experiences collected from Champagne wine tours? Do the names Dom Perignon, Veuve Clicquot, and Billecart-Salmon stir your taste buds? Time for you to visit France.
Where Do You Find Champagne Wine Tours?
The Champagne producer region is about 145 km (90 miles) south of Paris, so it is an easy day trip. You can rent a car or go by train or coach. Champagne – always with a capital C — is both a region and a drink. And the genuine bubbly has to come from this specific area.
There is a wide offering of wine tours. Champagne tours may include tour guides, wine tastings, and food pairings. Some wineries are open to the public and offer a cellar tour. Others require advanced bookings. How about a stroll down Avenue de Champaign – the most expensive street in the world – to taste the bubbly there?
A visit to a Champagne house is sure to leave you with lasting memories.  Why do people drink Champagne? A bottle of this bubbly wine is popped in many places around the world at the stroke of midnight on New Year's Eve.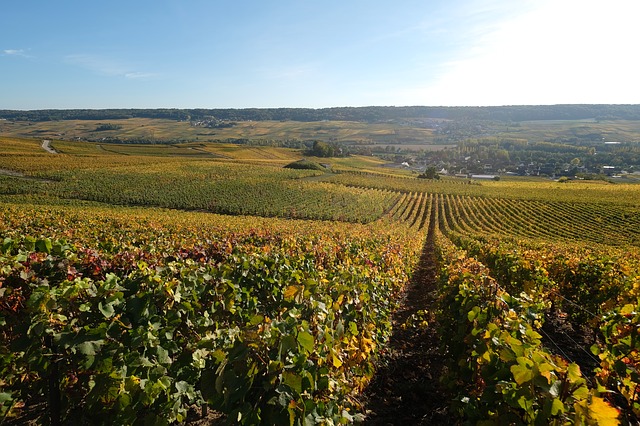 But why is Champagne associated with celebrations, luxury, and decadence? It all goes back to the aristocracy in Europe. If they thought the bubbly was wonderful, it must be true.
As well as having a prominent place in wedding, graduations, and baptisms, a smashed bottle of Champagne can be used to christen a ship. A good adjective for Champagne is "versatile."
What is the history of Champagne?
The first vines were planted by the Romans in 57BC. Initially, the wine was given to people to encourage them to buy wool, the main product of the region. When Champagne wines arrived in Britain – first mentioned in 1676 – they were re-fermented in the warm English pubs. Sparkling wine had been born. It became fashionable and the demand increased for this darling drink of the elite of London. Yes, it is a paradox that this French wine was "invented" in England.
Two additional features of Champagne making were the heavy glass bottle needed to contain the pressure of the sparkling wine and the cork. Don't you love the sound of the popping? This area is noted for producing a wine that is imbibed for special occasions and for extravagance. The region, however, has a rather bleak history of being caught in the two world wars, living through political strife, and dealing with vine diseases.
In July 2015 Champagne was declared a UNESCO World Heritage site.