Once in Spain you can enjoy several day trips from Madrid. Segovia and its Roman Aqueduct truly worth it: the Aqueduct of Segovia is one of the most important and best preserved architectural monuments erected by the ancient Romans on the Iberian Peninsula. It is also the emblem of the city itself, as seen on the city's crest. Roman aqueducts were very sophisticated constructions whose technology, quality and design were unparalleled and went unchallenged for over 1000 years after the fall of the Roman Empire.
The Aqueduct of Segovia carries water from a spring located in the nearby mountains 17 kilometers from town. It is composed of 167 single and double arches supported by pillars. The architectural line of the arches is essential for the gravitational conveyance of water. Arranged on one or two levels that adapt to the changing levels of the ground, the aqueduct was built according to the typical Roman round arch using dry-stoned blocks of granite held in place and joined perfectly through gravity. The Aqueduct was rebuilt several times over the course of centuries due to damage sustained in ongoing warfare between the Catholics and the Moors. It was kept fully functioning and in excellent condition and supplied water to Segovia and its famous Alcázar until recently. Since 1997 the Aqueduct has been under restoration to preserve this cultural Roman treasure for many centuries to come.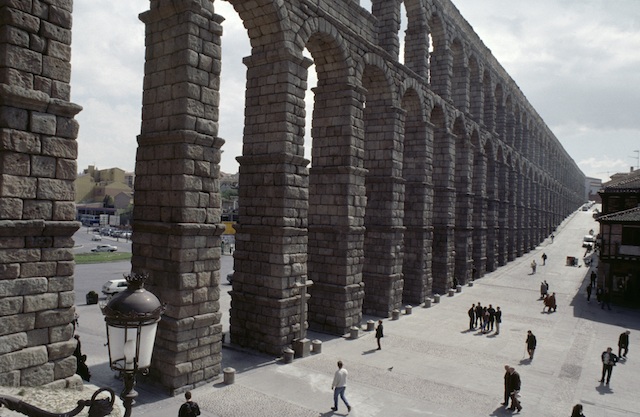 Segovia is the gate to Rioja region and its wine tours
This architectural masterpiece where usefulness matches beauty is also known as "Devil's Bridge". According to legend, the devil built it in one night in exchange for the soul of a young lady. The devil fortunately failed to reach his aim because one last stone was still missing at dawn.
The Aqueduct is only one of the many lovely sites of this historic Castilian town. Also well worth visiting is the Cathedral, which stands at the highest point of Segovia, and the Alcázar, a twelfth-century fortress built on a rocky outcrop with an impressive view of the city. Even its gastronomy has a deserved and recognized reputation.
Segovia is definitely one of the best day trips from Madrid. We can plan this into the itinerary of your vacation in Spain. Another good option can be overnight there and then continuing northwards travel to Rioja wine region and enjoy some of the best Spanish wine tours and cellars.